Kodak Cherish C525P Smart Baby Video Monitor ( Tilt, Pad & Zoom)
Description Stay connected at all times to baby whilst they sleep or rest in their cot with the Kodak Cherish C520 Video Monitor. With ultimate clarity like no other, you...
Description
Stay connected at all times to baby whilst they sleep or rest in their cot with the Kodak Cherish C520 Video Monitor. With ultimate clarity like no other, you can connect to the Kodak Smart Home App allowing for long range and WiFi connectivity so you can keep streaming HD video and crystal-clear audio as close as your smartphone. With a KODAK baby camera in your home, you can cherish all the beautiful moments of your baby's development without disturbing their sleep.
Features
TILT, PAN AND ZOOM - Experience increased focal range using your smartphone or tablet to control the viewfinder 
EXTENDED RANGE AND WIFI CONNECTIVITY - 

whether you're in the other room or across the country, stay connected with WIFI and enjoy HD video and audio any time of day or night.

MONITOR FROM ANYWHERE - Access the camera feed from anywhere whether your are home, work or out and about. Never miss a beat
PORTABLE BABY MONITOR AND CAMERA - Built in rechargeable batteries in both the monitor and the camera so it can be taken anywhere (No need to rely on mains power)
SMART NOTIFICATIONS - Motion and Sound notifications are delivered to your KODAK Smart Home App instantly from the baby camera. You'll always know what your baby is up to anytime any place
CRYSTAL CLEAR HD IMAGE - 5-inch widescreen display delivers a crystal-clear HD stream. 
CLOUD AND SD-CARD RECORDING - Kodak's Smart Home App and SD Recording lets you save the video stream from your KODAK CHERISH C520 video baby monitor, allowing you to revisit special moments for years to come and share them with loved ones.
Apple and Android Compatible
TWO-WAY TALK - Communicate and soothe baby with the sound of your voice through the monitor
TEMPERATURE ALERTS - notify you of any changes in room temperature so you can keep you and your baby comfortable and safe year-round.
WALL MOUNTABLE - Camera unit can be mounted anywhere for an optimal view
INFRARED VIDEO - 

Great night vision delivers a clear HD Video, even when the lights are off.

ONE-TOUCH ON/OFF SCREEN - Select the option to monitor sound in child's room without an intrusive glowing screen.
ILLUMINATED KEY PAD - Soft glowing keypad on the baby monitor allows for easy operation after dark.
SOOTHING LULLABIES AND WHITE NOISE - To calm and reassure your baby during the transition into slumber and through the night.

Spare Camera Unit Available (Sold Separately)
Specs
For Best performance it is designed to work optimally in a home up to 4,000 square feet, as well as on your smartphone when you're connected to WiFi.
5.0" HD Screen

Cordless High Res Camera

Wifi

2 way audio

Infrared Night Vision

Remote Zoom

Long Range

12 Months Warranty
Mobile App Compatible
Kodak Monitor Comparison Chart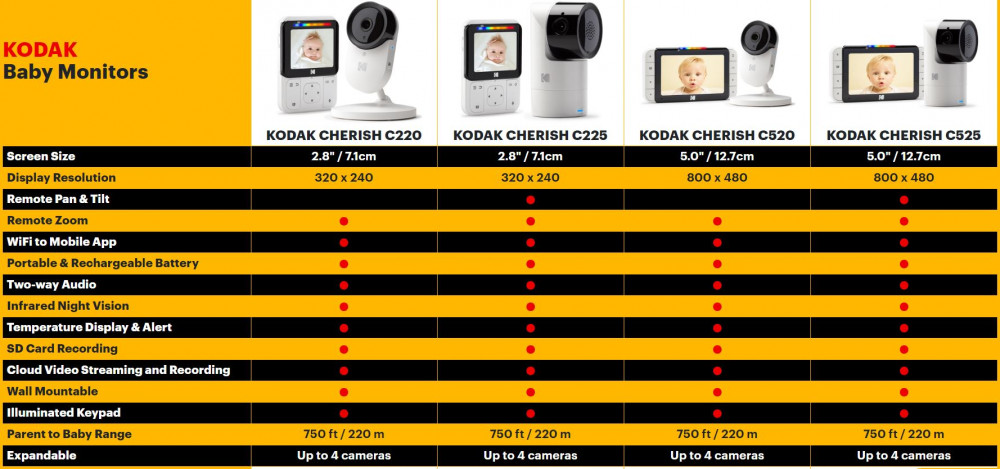 Shipping and Availability
Please see Product Availability Disclaimer Below
DELIVERY & SHIPPING GUIDELINES >
PRODUCT AVAILABILITY
Our Web site does not have real time product quantities.
We will advise within 48hrs: stock availability, order status and shipping details.
If your order is urgent please first contact the store by email sales@babyography.net.au or telephone 02 99393955 to confirm product availability.